Turn your Half-Ton
into a Superduty!
Safely haul more in your pickup while maintaining Federal and Provincial axle weight compliances.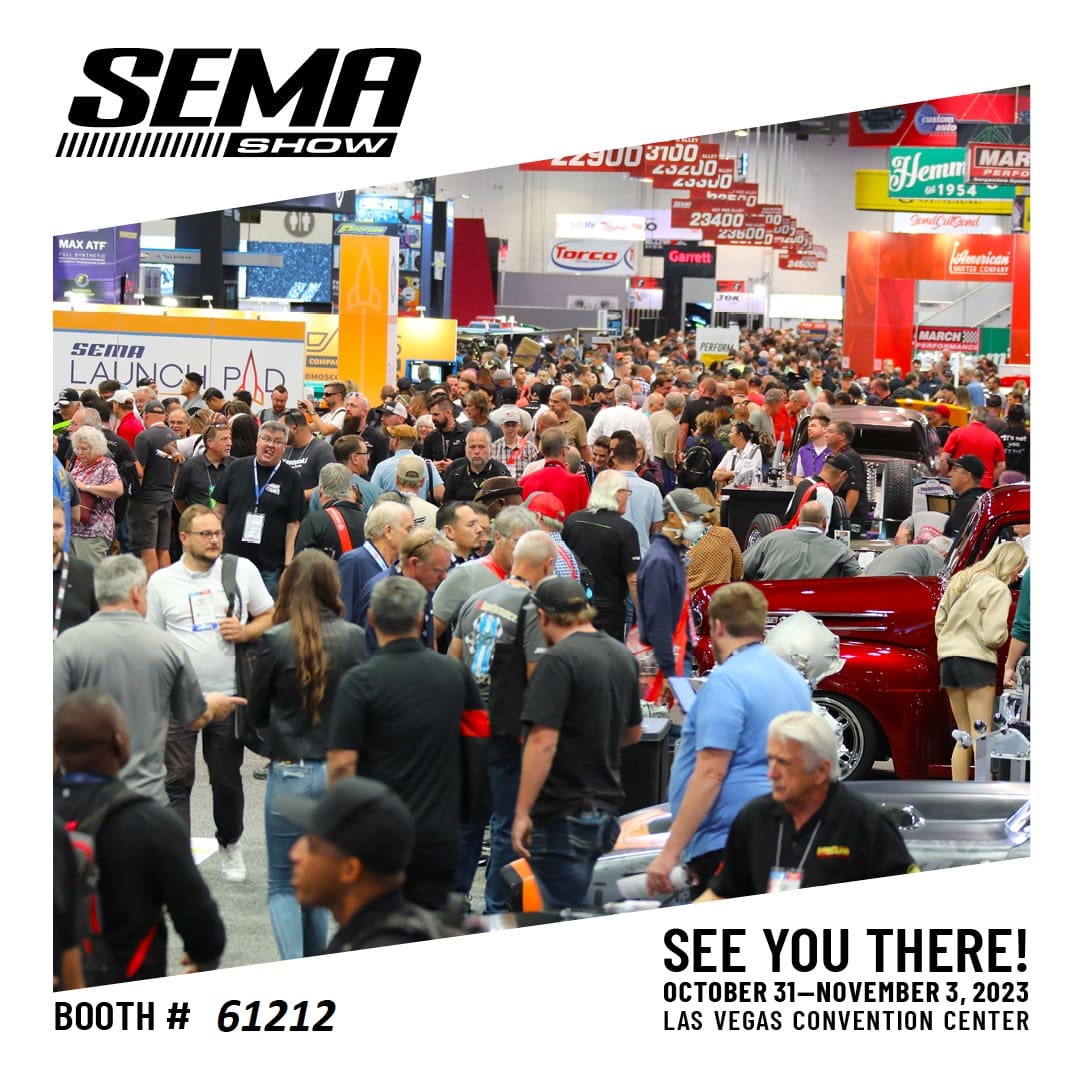 We're heading to SEMA!! If you are going to SEMA 2023, stop by our booth #61212 and see why we think our WDT is the best axle weight maintenance system available.
Hope you to see you there!
Join us at the 2023 SEMA Show, October 31 – November 3rd!
Built to last!
Each WDT909 Trailer is Made in Canada and handbuilt with quality parts from only Canada and the U.S.A.
We understand how important long-term reliability and safety are when hauling. That is why each unit is built to last.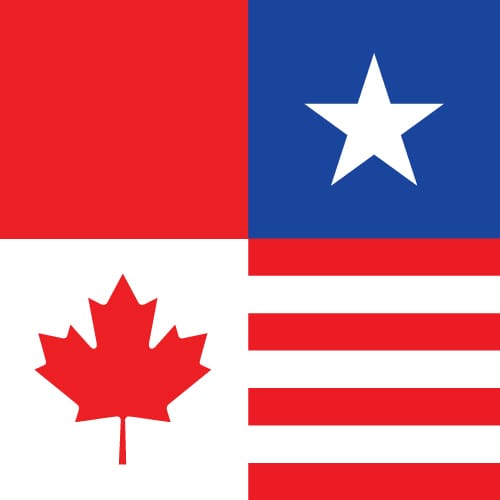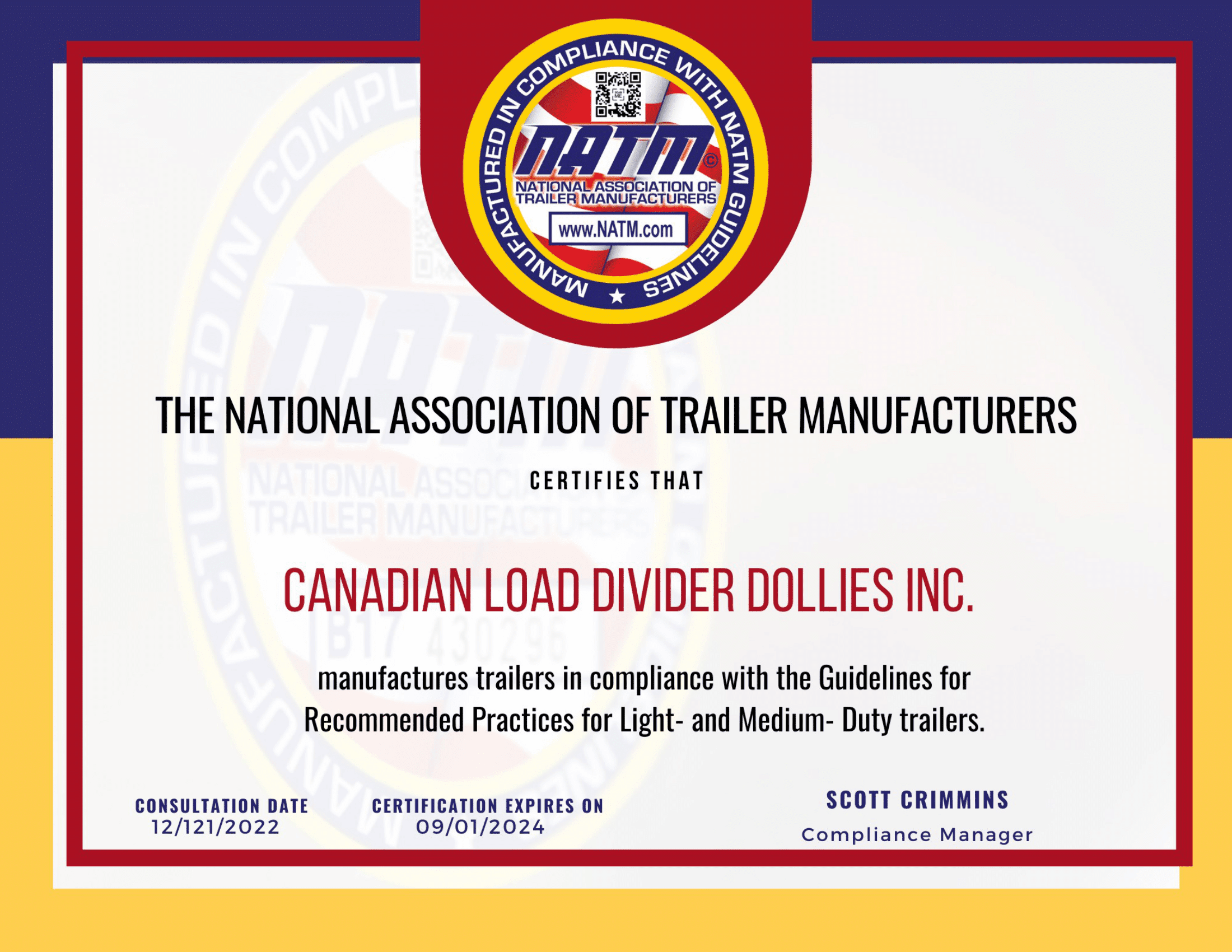 Pre-Orders Are Open!
We are now accepting pre-orders for the WDT909 Trailer. The projected delivery date is set for Spring 2022.
The estimated cost per trailer will be between $9000 to $9200 CAD. With a $3500 CAD deposit required.
By clicking the button you will be prompted to email. In the subject line type "Preorder request".
Never feel unsafe or uncompliant again!
"I wish I could haul more in my truck."
How many times have you said this to yourself as you load your truck with that heavy load? As it lays on your truck bed you can see your suspension strain under the weight. The sagging is visible but what awaits is even worse. Driving.
The WDT909 eases any fears you may have driving your truck under heavy loads.
Built for people who haul extra loads in their light-duty pickup trucks, our product will give you superior vehicle stability under load. Our patented weight distribution trailer WDT909 is a revolutionary new way of distributing axle weight for safety & compliance.
It is a revolutionary self-contained single axle follow steer trailer that automatically transfers rear axle weight to the front axle and trailer axle making your vehicle safer and in compliance with federal axle weight requirements while maximizing your vehicle's carrying capacities.
Giving you peace of mind and safety when driving your truck with heavy loads.
Exceeding your GVWR is unsafe and costly.
Overloading your truck's GVWR causes many problems like front axle lifting causing your headlights aimed in the wrong direction. You will also experience steering and stability issues which affect overall control and braking. Resulting in unsafe driving conditions, higher maintenance costs, and steep fines when you are caught for being over your GVWR.
Our WDT909 has a registered GVW of 1999 pounds or 909 kg. This allows you to increase the carrying capacity in CGVW regulations up to an additional 1500 pounds or 682 kg.
Bill's Camper Test – January 22, 2023
2019 DODGE RAM 3500 DUALLY
NORTHERNLITE 10-2EXEC LE SLIDE IN CAMPER
MANUFACTURES GVW 11400LB/ 5171KG
FRONT GAWR 5500LB/2495KG
REAR GAWR 7000LB/3176KG
OEM cargo capacity 4085 LB/ 1853 KG
For this test, we modified the length of the hitch shank by 6 inches.
Clearance was adequate to clear rear of camper with minor elevation changes.  We traveled to a nearby government weigh station to weigh unit and axle weights. The following weights were recorded:
Unit weight without Weight Distribution trailer:
| | | |
| --- | --- | --- |
| GVW- 11550LB/ 5250 KG | front GAW 4356 LB/1980 KG | rear GAW 7172 LB/ 3260 KG |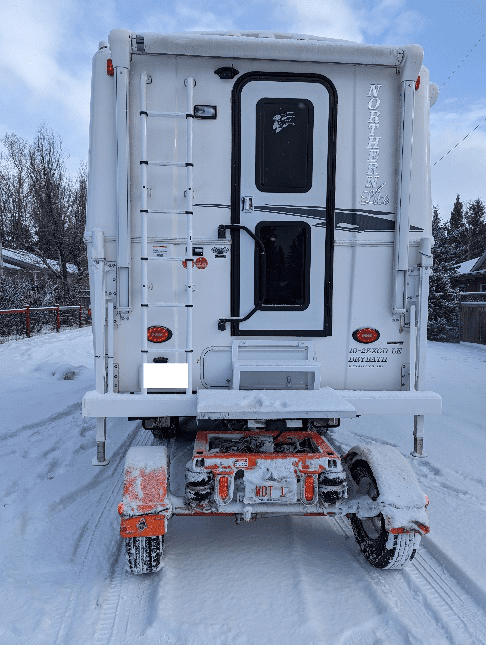 As in the picture the road conditions were ideal for control and stability test due to the very icy roads. When we arrived at the weigh station Bill had stated that he did notice a substantial improvement in handling and smoother ride (bucking decreased).
With some minor adjusting due to the camper being loaded when setting the WDT, we did not have the actual unladen receiver to ground height which is how we would set shank position. These were the results of weight transfer with the truck air bags deflated:
Front axle with WDT deactivated.
OEM GAWR 2495 kg     Actual 1980 kg = 515 kg under
Front axle with WDT activated.
2180 kg = 315 kg under
Rear axle with WDT deactivated.
OEM GAWR 3176 Actual 3470 kg = 294 kg over
Rear axle with WDT activated
2870 kg = 306 kg under
WDT deactivated.
OEM GVW  909 kg 210 kg
WDT activated.
520 kg = 389 kg under.
Conclusion of test results would be:
Due to the load position and OEM specifications, we removed an excess of 294 kgs from the over loaded rear axle to the front axle and increased the front axle by 200 kgs balancing out the units axle weights to increase stability, braking, headlight aiming and comfort. We also transferred 310 kg to the WDT. Our calculations to add additional weight with out exceeding OEM on the truck or WDT are an additional 50 kg to the front axle, 30 kg to the rear axle and 70 kgs to the WDT. This basically would increase the cargo capacity legally and in compliance with OEM by 754 kg or 1658 lbs.
This testing was informative to our designing, and we are now changing some geometrics to allow more weight to be transferred to the WDT to maximize the weight transfer to utilize the additional 389 kgs.
Because we have the manufacturers cargo capacity information, we can calculate that the curb weight of this unit is approximately 7299 lbs/ 3318 kgs.
Even though we are only 173 lbs/79 kgs over the OEM GVW, the fact is that we are 547 lbs/294 kgs over on the rear axle. This excess weight could try to be placed in the cab area towards the front, but how much weight would be placed to the front axle?
I'm confident in my patented design that the WDT does what we claim and has many advantages to the light duty truck operators.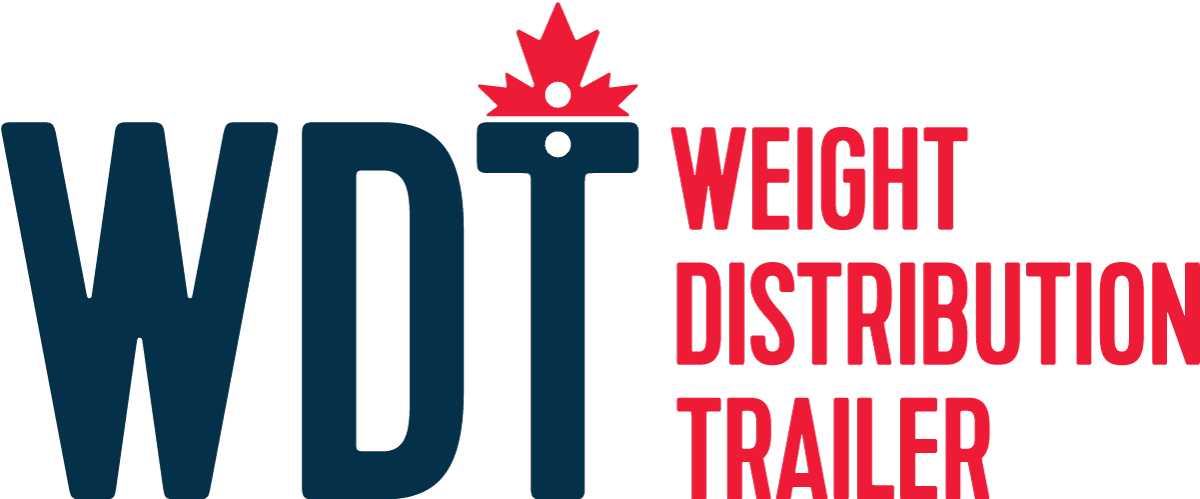 The WDT909 solves all your issues.
Classified as a self-contained single axle follow steer trailer, our patented WDT909 is a revolutionary new way of distributing axle weight so you can drive safely and be compliant with federal axle weight requirements while maximizing your vehicle's carrying capacity.
Maintain OEM vehicle geometry under load
Safe vehicle stability under load
Little to no maintenance required
Less wear on front end and steering components
Less stress on rear axle components while under load
Maintain federal and provincial axle weight compliance
Prevents front end deterioration
Improves handling and stability under load
Keeps caster true to centre
Maintain centre of balance
Stabilizes load distribution for maximum performance under braking
Features
Fully automated system
No guesswork with installation
Automatically balances to your vehicle
Training and demonstration on how to connect and disconnect your unit included with your purchase
Presets itself from your truck ignition
Included Key fob remote for setting your unit
Pivots and adapts to changes of elevation between axles
Intelligent weight distribution
How It Works
Once connected and activated to your pickup, it automatically distributes the weight to each axle to the maximum GAWR your vehicle is rated for.
As you add or remove cargo, you simply turn the ECM memory off with the supplied remote, remove or add your cargo and it will adjust the weight to all axle proportionally. Once it has adjusted the weights, you simply press the remote to activate the ECM memory and it will maintain those axle weight inputs.
Even as you travel over elevation changes, such as a driveway, it still automatically maintains those axle weight settings. With properly proportioned axle weights it increases your stability, braking, and ride performance.
It is brake test certified to stop well under federal requirements with the additional 1500 pounds added to the tow vehicle.
Pre-Orders Are Open!
We are now accepting pre-orders for the WDT909 Trailer. The projected delivery date is set for Spring 2022.
The estimated cost per trailer will be between $9000 to $9200 CAD. With a $3500 CAD deposit required.
By clicking the button you will be prompted to email. In the subject line type "Preorder request".
Built for:
Half-Ton to 1-Ton Pickup Trucks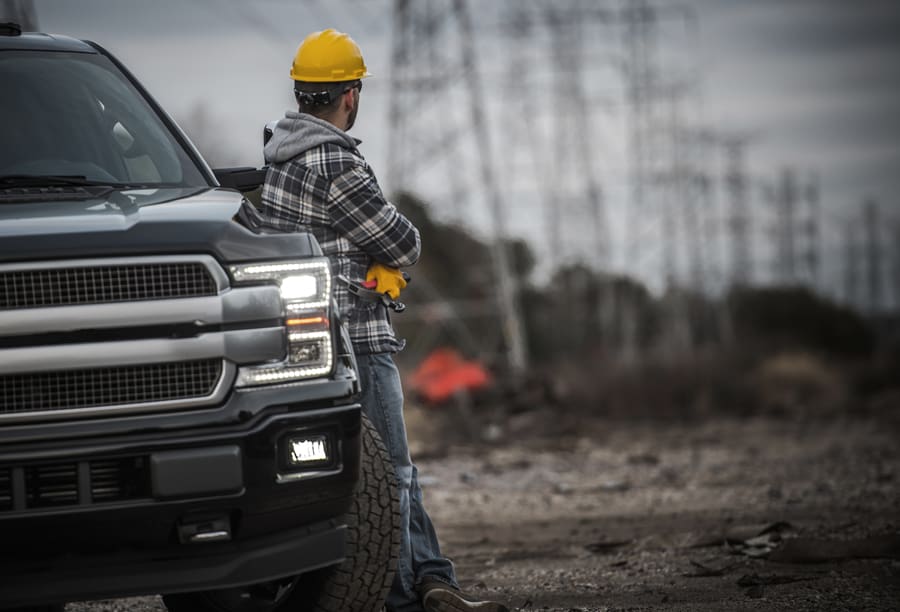 Used by:
Hotshot Companies
Truck Camper Haulers
Welders
Farmers
Heavy Duty Mechanics
Fleet Operators
Flatbed Trucks with Small Cranes
Individuals who haul heavy loads
Hi, I'm Laurie Stross, President of Canadian Load Divider Dollies and Inventor of the revolutionary new Weight Distribution Trailer. Despite being a young company, we know we're about to change the way North Americans use light-duty trucks and vehicles, forever.
With this new product, we hope to create a more efficient way for operators to their load vehicles to the best possible capacity, while educating them on the importance of axle weight safety.
But that's just the start. We have many more innovative projects in progress, currently geared toward improving road and driver safety and experience, while complying with industry standards.
Have a question or want to learn more?
CONTACT US
Want to learn more about our trailers?
If you have a question or inquiry, please contact Laurie Stross.
Toll Free: 1-888-477-5805
Email: laurie@cldd.ca
What are your brake testing numbers?
30 km/h within 12 meters required.
Actual 30 km/h within 6.69 – 7.73 m (-4.27m)
96.6 km/h within 73.78 required
Actual 96.6 km/h within 56.58 -58.98 (-14.80)
Loaded to 4043 kgs – 709 kgs above OEM GVW.
Stopping distance improvement:
GCVW 3667 Kgs. 333 kgs over OEM GVW
With WDT909 activated @ 96.6 km/h 52.73 m
With WDT909 deactivated @ 96.6 km/h 58.14                
Stop distance act. Diff (- 5.41 m) (-17′ 8.9″)
Join our email newsletter
Stay informed
Sign up to get details on our progress, data and pre-ordering delivery details of your very own WDT909 trailer.
"*" indicates required fields
By signing up you give CLDD permission to email you updates, promotions and news about their company and products.